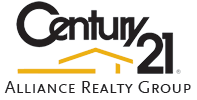 Century 21 Alliance Realty Group- New York State Regional Brokerage
It has been just over a year since I joined Century 21 Alliance Realty Group. Being deeply rooted in Ulster County, my choice of a Dutchess County brokerage was surprising to many of my colleagues. The nature of our business brings us to work in cooperation with other agents in our area, though we are competitors, for the most part we work closely and get to know each other well. When agents I have worked with over the years heard that I left a small local brokerage to go to a large firm out of my area, they were surprised at the choice.
Fast forward one year and there have been many changes. Century 21 Alliance has opened a New Paltz Office. Together with the original Wappingers Falls office, there are now offices in Lagrange, Newburgh and New a Paltz is the newest office. So now my move to Century 21 Alliance makes more sense to others. It always made perfect sense to me. I chose a well established brand, Century 21, a highly professional, progressive, knowledgable, supportive and family oriented broker, in Joe Pettinella at Alliance Realty Group.
Things are clicking for me. I knew Century 21 and I are a perfect match. I did not realize the huge impact this company would have on my career. Two phone calls from two unrelated, highly respected and successful agents from Ulster County, made me stop for a moment and reflect on the success I am having. Both congratulated me on my recent success. They were both genuinely very happy for me. Both said something that really moved me: Century 21 and I are game changers in the area. It was a proud moment for me. I work really hard and to have two respected colleagues take the time from their busy day to call to acknowledge this, it was a wonderful thing.
Century 21 Alliance Realty Group...game changers, I love that.